It's been quite a while since I last posted anything here, but with Khans of Tarkir on the horizon, I just can't keep my mouth shut concerning the new Legendary Creatures we're getting our hands on in the coming weeks. All of the Khans have their strengths, all have their weaknesses, but that's a given. No card is perfect, they all have a downfall, and that's something every magic player accepts. Zurgo Helmsmasher is only indestructible on your turn, every other turn, he's entirely susceptible to removal. Sidisi, Brood Tyrant is strong in her own right, but is entirely a "build-around-me" general, keeping your strategy–for the most part–very narrow. And Anafenza, the Foremost…well, personally I consider her to be very weak all around. Similar to the Triad of Fates from Theros. Very cool, has some neat abilities, but the strength just isn't there.
However, when it comes to Commander, one Khan stands out above the rest, and everybody knows it.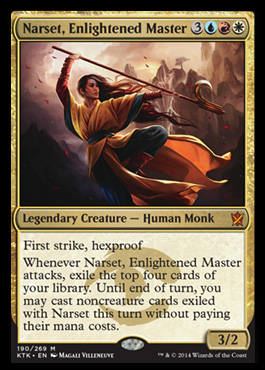 Narset, Enlightened Master is, by all means, busted as a commander. Despite the fact that her power and toughness in comparison to her CMC are rather weak, her abilities more than make up the deficit. Three power is nothing to necessarily scoff at, but with first strike, it's more than decent. And two toughness is unarguably pitiful, but the fact that she has Hexproof provides the necessary cover you need to make her work.
The real money, however, comes in her non-keyword ability. When I saw what she did, I almost thought that it was a joke. A faux spoiler. Because lets be honest, that ability is insane. Essentially, she can cast anything in the game for free, as long as it's not a Creature. That means Enchantments, Artifacts, Sorceries and Instants are all fair game, and its more than possible to create a deck without creatures.
Narset has some obvious synergy. She makes a fantastic Voltron commander, as you can cast all Equipment and Auras without paying their mana cost, only paying the equip cost when necessary, and the potential for abuse of extra turn cards is phenomenal. However, these two types of strategies are not necessarily where I see Narset excelling.
There are a few specific cards that you're just always going to want to hit with Narset, namely Omniscience and any turn that provides you with extra combat steps and main phases. For this reason, we pack our deck down with these abilities, as well as ways to search out these spells. Enlightened Tutor and Mystical Tutor excel in this deck, allowing you to search out and cast any spell you want in a turn for essentially one mana.
After making a proxy list and playing out a few games with friends, my theories were confirmed. Not only is Narset powerful, she's also surprisingly consistent, winning on turn six or seven almost every game I played. And the best part about it? My opponents couldn't do anything about it. Their only chance was to keep Narset from hitting the board, and the deck packs enough counterspells to prevent that from happening. Once she's on board, they have to board wipe, or the "combo" follows, and the game comes to a screeching halt until it wins.
Granted, this kind of play style may be frowned upon in a lot of groups, but nonetheless, it's fun. Narset, Enlightened Master is quite possibly the All-Star Commander of the set, and well worth looking into. I'll be providing my list below, so feel free to take a look, try it out, and comment below.
Commander: Narset, Enlightened Master
Creatures:
Sorcery:
Instants:
Enchantment:
Artifact:

Land:
As always, thank you for reading. Feel free to leave all comments, questions and ideas in the comment section below, and keep a look out for new content in the coming weeks.
---
Evan Erickson